About Us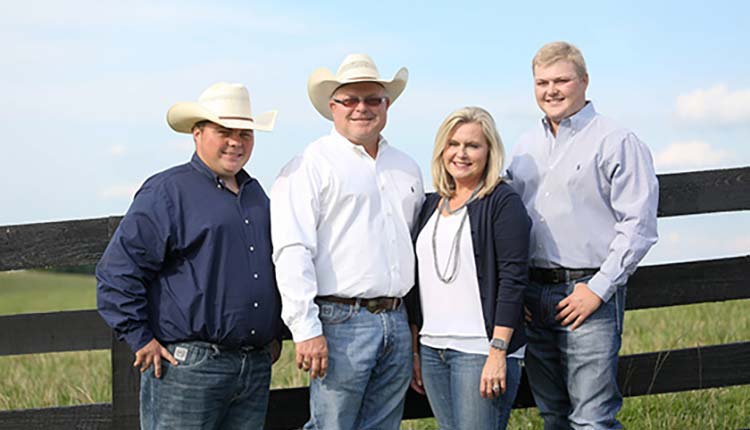 The Boyd Family began its venture in the Registered Cattle business in 1893. E.A. Boyd started a herd of Registered Horned Herefords known as Highview Hereford Farms. Later along with his son Ward W. Boyd continued Highview Herefords as a nationally prominent operation, exhibiting man International Champions in Chicago, as well as leading production sales.
In 1960 Charles E. Boyd Sr. along with his wife Martha started their own herd of Polled Herefords. From a very humble beginning their Polled Hereford Herd was a local, state, and national leader for over 50 years. Charlie Sr. was an early adopter of AI and Embryo Transfer. His ability to combine performance data with cutting edge phenotype produced leading AI Sires, National Champions, and sale toppers.
In 1992 Charlie Boyd II and Paula began their venture into the Angus Business. At that time Boyd Beef Cattle would raise both Angus and Hereford Cattle. The Angus herd began by identifying the breeds most proven and productive cow families. Two paternal sisters by Leachman Right Time became the foundation of the herd and still remain as a foundation today. Those two cows were SVF Forever Lady 57D and BT Everelda Entense 43J.
Before the establishment of the annual Boyd Bull Sale the Boyd Family was a key figure in the National Western Bull Sale. In 1998 Boyd New Day 8005 was born and in 1999 he became the National Western Bull Sale Champion selling to a group of leading breeders and Genex AI stud. New Day became a nationally used AI sire, breed leader for registrations and sired countless Pathfinder daughters.
Today the Philosophy of discipline and principle remain the same. Boyd Beef Cattle has produced 31 AI stud sires. Proven cow families along with the most proven and progressive cutting edge sires provide the blueprint of the foundation. Phenotype and Genotype hand in hand are the goal posts for success.
Blake and Logan Boyd are now the 5th generation joining Boyd Beef Cattle to further enhance the operations positive future. The longevity of the Boyd program is due to its friendships and customer service that is deeply valued. You are always welcome to visit the farm. Our three production sales are:
Annual Bull Sale — 2nd Saturday in March
Angus Female Sale — 4th Saturday in September
Hereford Breeders Cup Sale — Labor Day Saturday